Services & Techniques
At Bow Valley Chiropractic, we are committed to provide therapeutic solutions to address your unique needs, whether you are experiencing back pain, neck pain, headaches, or even muscular tightness and tension. You may be searching for pain relief after an accident, experiencing an injury, or if you suffer from a specific condition like chronic back pain or a spinal condition. Even if you looking to improve your overall health, our Professional staff can help you attain your everyday wellness goals!

At Bow Valley Chiropractic, we take great pride in providing the finest chiropractic wellness care to our patients. Below is a sampling of the different chiropractic services we offer in our Calgary office while practicing safety measures due COVID-19.
We will continue our Policy for screening, and physical distancing regardless of their vaccination status, based on the recommendations from AHS, and ACAC, Masks are Optional now. Our priority is making a Safe environment for Staff and Patients.
Due to the risk of COVID-19, we ask that all patients who are sick, or experiencing symptoms such as fever, trouble breathing, coughing to call to reschedule your appointment at (403) 262-2211, contact your health care provider or local public health authority and follow their advice. - If you have received COVID-19 vaccine you must wait 48 hours before booking an appointment.-
At Bow Valley Chiropractic we have the best Chiropractor in Calgary, conveniently located on the plus 15 (+15) in Downtown Calgary. We also have Massage therapists, that give the best massage in Calgary, whether you are looking for Maternity massage, Relaxation massage or Thai massage, we offer them in downtown Calgary.
At the clinic we offer acupuncture, where our acupuncturist and Traditional Chinese Medicine Doctor, Dr. Sarah Kim, takes care of your acupuncture needs in Calgary; with our custom orthotics provider you can get the custom made orthotics done in downtown Calgary or Northeast Calgary in Falconridge area, you can get Insoles, sandals or shoes done.

Chiropractic
We provide spinal correction utilizing gentle chiropractic techniques. Never in the history of chiropractic have we been able to provide the level of help and expertise that now exists. These newer correction methods are even safer, more comfortable and more effective than ever before. As a Doctor of Chiropractic, Dr. Steve Kim has years of training and experience in spinal adjustment.
---

Massage
Massage therapy offers a natural conservative treatment approach that relieves musculoskeletal pain for many patients. Our office provides specific massage and muscular therapy that is tailored to meet the patient's condition and injury. The benefits of massage therapy may include increasing blood circulation, reducing swelling, relaxing muscles, relieving muscle pain and spasms, and aid in recovery and range of motion.
---
Acupuncture is an ancient, safe and effective alternative to medication and, in some cases, surgery. Acupuncture stimulates the release of endorphins – the body's natural pain-relieving neurohormones – through the insertion of needles into specific anatomical points (acupuncture points) to encourage natural healing.
---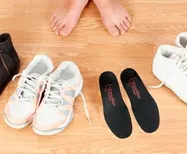 Custom Orthotics
Do you suffer from foot, ankle, hip or low back pain? If you answered yes to any one of these, you need to have your feet examined at our office today. We use the latest 3D technology to test your feet and determine the root of the problem. Our orthotics are made in the worlds largest and most technologically advanced lab. Contact us today to book your complimentary consultation and take the first step to becoming pain free.
To book an appointment with your account or to create a new account, you most login to your Clinic Portal. If you are a current patient, most likely you already have an account. To gain access to your Clinic Portal and be capable to book directly contact us to give you access: [email protected]