Acupuncture
Due to the risk of COVID-19, we ask that all patients who are sick, or experiencing symptoms such as fever, trouble breathing, coughing to call to reschedule your appointment at (403) 262-2211, contact your health care provider or local public health authority and follow their advice.
We will continue our Policy for physical distancing regardless of their vaccination status, based on the recommendations from AHS, and ACAC, Masks are Optional. Our priority is making a Safe environment for Staff and Patients. - If you have received COVID-19 vaccine or buster you must wait 48 hours before booking an appointment.-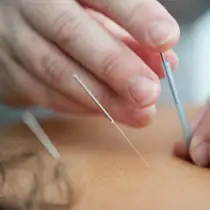 Acupuncture is an ancient, safe and effective alternative to medication and, in some cases, surgery.
Acupuncture stimulates the release of endorphins – the body's natural pain-relieving neurohormones – through the insertion of needles into specific anatomical points (acupuncture points) to encourage natural healing.
Acupuncture needles are rounded at the tip so that they slide smoothly through tissue and are unlikely to cause bleeding. Needles are left in place for 15 to 30 minutes during which time the practitioner may manipulate the needles in order to strengthen or reduce the flow of Qi.

Therapeutic effects include:
Pain relief

Increased energy

Improved mood

Improved body function
The best Acupuncturist in Calgary it's here, Dr. Sarah Kim, she speaks English and Korean. You can find her in our clinic by appointment Tuesdays, Thursdays, and available some Sundays.
Unlike conventional medicine, which focuses on attempting to treat disease once it occurs, Bow Valley Chiropractic emphasizes improving your health in an effort to reduce the risk of pain and illness in the first place. Most people would rather be healthy and avoid illness, if they could. This is one of the main reasons for the big surge in the popularity of our acupuncture center.
For some, Bow Valley Chiropractic will take them back to a place that is cozy and familiar, offering a rediscovery of health and wellness that had been previously known but long lost. For others, the journey may offer a new center, one never before experienced.
People are recognizing the benefit of seeking an alternative to traditional medicine; one that will help them achieve and maintain optimal health. Our staff and the members of extended wellness network are dedicated to helping you achieve your wellness objectives. To promote continued learning in the nature of your health we also recommend you join our free website membership program.
At Bow Valley Chiropractic we offer Acupuncture treatments near you, we are conveniently located in Downtown Calgary, Alberta, on the Plus15 right before Starbucks. Make your appointment today, (403) 262-2211, or email us at a[email protected] - For Online booking:
Located in Downtown Calgary, Plus 15, Bow Valley Square 4. Acupuncture, acupuncturist, acupuncture in Calgary

---
Frequently Asked Questions
Can Acupuncture Help My Condition?
There are literally hundreds of conditions, disorders and diseases that acupuncture can effectively treat. Treatments are tailored for individual case circumstances, which enhances the efficacy of the treatment. Our experienced practitioner will determine if acupuncture treatment is right for you, based upon your symptoms and unique medical history.
Does Acupuncture Hurt?
When a needle is inserted, a slight pinching will be felt. However once the session is underway, many patients feel very relaxed and even fall asleep.
Are There Other Forms Of Treatment Besides Needle Insertion?
Yes. Your practitioner may use their hands to put pressure on particular acupuncture points. They may also use a variety of mechanical devices to stimulate affected areas, as well as, warming the desired area by burning herbs.
Is Acupuncture Safe?
Acupuncture is extremely safe. Our licensed Acupuncturist uses sterilized needles which are properly disposed, in accordance with health regulations.
How Many Sessions Do I Need?
Most disorders require between 6 and 10 sessions in order to effectively correct or alleviate a problem. At the time of the initial examination, your Acupuncturist will evaluate your condition and will assess the approximate number of treatments needed.
How Should I Prepare For My Session?
Wear loose clothing to allow access to acupuncture points. Have a light meal or snack shortly before your treatment.
What Training Is Required to Practice Acupuncture?
A licensed Acupuncturist must complete rigorous education requirements, which differ from province to province. However it generally takes 3-4 years of extensive study, as well as, a 1 year internship. Most provinces also require certification with the NAACOM.
How Much Does Acupuncture Cost?
Generally, an acupuncture session can cost between $90** and $135**. Many insurance companies cover much of the cost of acupuncture treatments.
Contact your health insurance company for more information about the coverage that your Plan provides; we do direct billing for some insurance companies.
**Changes in Fees will be posted on the Clinic Board. Ask for the most recent Fee Schedule**
Located in Downtown Calgary, Alberta, on the +15 of Bow Valley Square #4, Call to book your appointment 403.262.2211 or book online.